Online Dialogues
at the Global Dialogue Center
BEING a Leader LIVE!
...a global conversation series
Tuesday, June 5, 2012
with Frances Hesselbein, leader extraordinaire and recipient of the
Presidential Medal of Freedom, the highest civilian honor in
the United States of America. Frances' Bio; hosted by Debbe Kennedy,
author and founder of the Global Dialogue Center.

We Welcome YOU!
How will YOU benefit from a leadership discussion about strengthening TRUST and ETHICAL
principles, motivating your team, and actionable ideas on how to BREAK OUT as a leader?
Over 380 leaders, aspiring leaders, and innovators representing 30 countries identified these
themes as top-of-mind and they gathered ONLINE for the first webinar in our 2012 global
conversation series held at the Global Dialogue Center ONLINE CONFERENCE CENTER in
partnership with the Frances Hesselbein Leadership Institute.

VIDEO REPLAY | To view, click on this link or the image below.
To view on iPhone and other mobil devices, go to: https://vimeo.com/45074578
Also below are beginning times for key segments of our global conversation: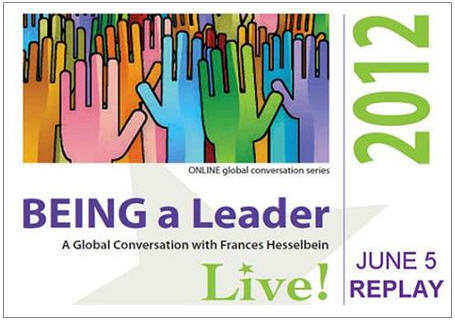 Video Replay QUICK REFERENCES:
Below are beginning times for key segments of our global conversation:
00:00
Piano Prelude, Welcome and Introduction
by Debbe Kennedy and Frances Hesselbein
Piano by Jessica Roemischer

-- 00:00 - INTRODUCTION | About the dialogue and the participants
-- 02:39 - Strengthening Trust and Ethical Principles
-- 11:23 - Motivating Your Team and Others Around You
-- 23:20 - How to BREAK OUT as a Leader
-- 32:17 - Q&A LIVE! | Fear, The Power of Story, Engaging Others
-- 35:20 - Closing Thoughts | Special Announcement
37:08

Informal Dialogue with Participants | Virtual Break
Participants from United States, Canada, India, Germany/China
take the microphone to ask questions.
TOPICS:

-- What do you do when you are concerned and afraid of the
consequences of what you are leading?
-- Why should be develop global leaders? How do you go about it?
-- How do we teach our leaders/teachers to practice what they preach?
SLIDESHOW SUMMARY and HANDOUTS
All documents are either linked or in pdf format to download
To REGISTER for BEING a Leader LIVE! October 18 and December 5
Click Here

FOLLOW-ON RESOURCES
OTHER 2011 LEADERSHIP by Example Series – Video Webinar Replays
LEADERSHIP by Example Series 2011
WOMEN in the LEAD with Frances Hesselbein
Our Significant Roles in the Global Economy
...commemorating International Women's Day – 100 Years
LEADERSHIP and INNOVATION in Changing Times
with celebrated leader, Frances Hesselbein