Online Dialogues
at the Global Dialogue Center
POWERFUL COLLABORATIONS with author Stewart Levine
Building High Performance Teams, Partnerships & Marriages
Hosted by Debbe Kennedy, founder, Global Dialogue Center
at the Global Dialogue Center ONLINE CONFERENCE CENTER
Tuesday, SEPTEMBER 27, 2011 | 1:00 – 2:30 pm ET
This virtual ONLINE webinar at the Global Dialogue Center attracted over 300 people from 19 countries.

VIDEO REPLAY | To view, click on this link or the image below
NOTE: Segment timings and Slideshow Summary and Handouts below.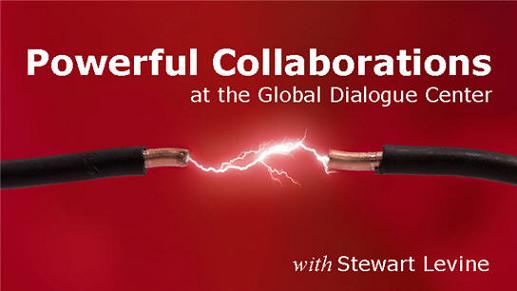 Video Replay QUICK REFERENCES:
Below are beginning times for key segments of our global conversation:

00:00
Introduction and Welcome
Who showed up? What you told about yourselves?
04:24
POWERFUL COLLABORATIONS | Stewart Levine seeds our dialogue
Building High Performance Teams, Partnerships & Marriages
-- 05:28 - WHY is Collaboration is Important Today?
-- 14:44 - WHAT are the Critical Elements for Effective Collaboration?
-- 17:33 - HOW ? Actionable IDEAS to Take Home
-- 32:18 - Exploring Participant Questions
-- 43:57 - Resources to Take-Away
45:00
Dialogue with Participants
Participants US and Europe take the microphone to ask questions; others write on
our virtual walls.
65:33
The FINAL WORD | Closing Messages from Stewart Levine
SLIDESHOW SUMMARY and HANDOUTS
All documents are in pdf format

Other RESOURCES: To inspire powerful collaborations with your team and partners, and within your personal relationships
Below are additional resources to inspire courage:
Action Dialogues is a book/card deck tool by Debbe Kennedy for leaders and teams that was referenced in our dialogue.


The four inspiring and informative films are complimentary to the courage theme. They can be previewed FREE online by clicking on the links. They are available to rent and/or purchased for teams and larger groups. They are brought to you by Star Thrower Distribution.

ACTION DIALOGUES
Meaningful Conversations to Accelerate Change by Debbe Kennedy | A small portable Boxed Set: Book, Process, and 52 illustrated diagnostic cards with insight and quotes.
Below are four films to inspire courage. Preview each of these inspiring films online FREE.
They are brought to you by Star Thrower Distribution.
More Than One Right Answer | a short film by Dewitt Jones
The program reminds us that amazing solutions are possible' and there are always more right answers when we are open enough to see them.

The Star Thrower Story | by Joel A. Barker
One of Joel Barker's most cherished stories, The Star Thrower, is available as a six minute film! Taken from his best-selling program, The Power of Vision, Joel Barker's version of the Loren Eiseley classic reminds us that we all have the ability to make a difference. As individuals, we can choose to take action and participate in the world around us. Together, we can shape the future.

Innovation at the Verge | a video program by futurist Joel Barker
Futurist Joel Barker has always believed the future is something you create, not something that happens to you. In this bold, new program, Innovation at the Verge, Barker teaches how to create your own future by finding your next innovation. Through stories and examples, you will learn how to combine your ideas with the ideas of others as you meet at the Verge.

A Second Chance | a short film by Paul Hopkins & Joel Suzuki
Everyone deserves a second chance. A real, life-changing event that's so much more than back to business as usual. Based on the second chance choice Robert Frost made before his first poem, The Road Not Taken, was finally published, this film provides trainers and presenters with a tool to inspire people to take risks and move forward.
See other possibilities in Star Thrower's online catalog of films.


Links to Learn More
Learn more about author Stewart Levine and his collaboration/resolution programs and resources.

http://www.resolutionworks.com/


Brought to you by the Global Dialogue Center ONLINE CONFERENCE CENTER