To begin the self-guided tour, CLICK on arrows above.
Putting Our Differences to Work
A Digital Art Exhibit at the Knowledge Gallery
...Honoring the work of Bay Area artist, Sally K. Green
Great leaders have always helped us see our common purpose. "We are all caught in an inescapable network of mutuality, tied to a single garment of destiny..." Dr. Martin Luther King told us. This special digital art exhibit is a celebration of our many dimensions of difference as individuals. It shares insight from many unique vantage points about our HOPES for the future, and the promise we see --- new ideas, great innovations, a better world that comes from working together.

The idea was inspired by a life-long friendship of a painter and a writer. Bay Area artist, Sally K. Green, created a collective portrait of our human story---one that elevates the importance of our differences. It helps us see how much each one of us brings to conversation and the generation of the new ideas needed to create better organizations, communities, nations, and a better world than we know today. The exhibit points out that across cultures and generations how we have much to learn from one another.


The exhibit was first debuted at Putting Our Differences to Work: Beginning a new conversation about INNOVATION and LEADERSHIP on June 19, 2008 at Grace Cathedral Conference Center in San Francisco. This special event was hosted by the author and founder of the Global Dialogue Center, Debbe Kennedy and long-time colleague, Joel A. Barker, futurist, author, and filmmaker.

INSPIRATION and RESOURCES TO MOVE INTO ACTION:
The Book, a New Landmark Film and Virtual Dialogues
This exhibit is part of a mutualistic collaboration that brings knowledge and wisdom together with technology, artistic expression, a printed and digital book, virtual dialogue, and a landmark film.
The fingerprints on the work are many; the result has created new resources designed to help all of us make our important contributions across the world at this critical time in history.
Sally K. Green
Putting Our Differences
to Work Art Exhibit
at the Knowledge Gallery

"This exhibit grew out of my "Faces in the Neighborhood" series. The idea was inspired by a long-held dream Debbe Kennedy and I have had as life-long friends: to put our writing and painting together in some meaningful way."
HER WORK...
Sally K. Green is a painter, graphic artist, and founding vice president of the Global Dialogue Center and Leadership Solutions Companies. She is the Global Dialogue Center's resident artist. She designed and created the front cover, including the photography and illustrations for Putting Our Differences to Work by Debbe Kennedy.
Sally Green and Debbe Kennedy have been friends since they were 13 years old.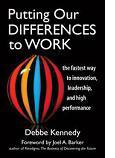 The Book: Putting Our Differences to Work: The Fastest way to Innovation, Leadership, and High Performance by Debbe Kennedy (Berrett-Koehler 2008). Available in print, digital download, and Corporate/Organizational Digital License.
Both a personal and practical guide for leaders, and aspiring leaders, and innovators of every kind, wanting to put their fingerprints on the 21st Century. Sally K. Green was selected to do the front cover design, photography, and graphic art for the book.
The book includes a foreword by futurist and filmmaker Joel A. Barker, as well as a set of collaborative chapters that Debbe Kennedy and Joel wrote chronicling their independent and collective discoveries, research, and practical experiments for the last decade: Chapter 10: Innovation at the Verge (by Joel Barker) and Chapter 11: Collaboration at the Verge (by Debbe Kennedy). Published by Berrett-Koehler Publishers in San Francisco.
View Joel Barker's commentary on the book.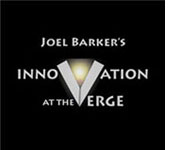 The New Landmark Film: Joel Barker's Innovation at the Verge premieres January 29 at the Minnesota History Center. In this powerful new program, Joel Barker introduces his next level thinking on innovation for the 21st Century. This bold new program includes specific examples and stories to inform and inspire you, your organization, and your team.
Learn more about this new film here.

"A verge is where something and something different meet."
--- Joel Barker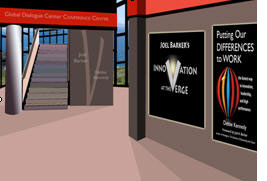 Virtual Dialogues
Joel Barker and Debbe Kennedy will be announcing a special set of Innovation at the Verge of Differences conversations and online learning webinars. These will be held at the Global Dialogue Center Online CONFERENCE CENTER, a virtual gathering place for people throughout the world.

Also, visit the Putting Our Difference to Work Center for Dialogue to learn more about Debbe Kennedy's schedule of virtual conversations and recorded library.
For additional resources...
To support this time of great change and opportunity, visit the Putting Our Differences to Work Resource Center.