Online Dialogues
at the Global Dialogue Center
PERSONAL REINVENTION: Discovering New Pathways to Leadership
with Jessica Roemischer, transformational advisor, pianist and composer
Hosted by Debbe Kennedy, author and founder, Global Dialogue Center
at the Global Dialogue Center ONLINE CONFERENCE CENTER
Wednesday, June 22 | 1:00 – 2:30 pm ET

VIDEO REPLAY | To view, click on this link or the image below
NOTE: Segment timings and Slideshow Summary and Handouts below.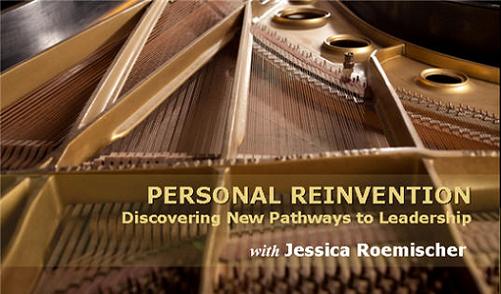 Video Replay QUICK REFERENCES:
Below are beginning times for key segments of our global conversation:
00:00
Introduction and Welcoming Message
Who showed up? What you told about yourselves?
06:17
PERSONAL REINVENTION | Jessica seeds our dialogue
Discovering New Pathways to Leadership
-- 06:17 - Music as a Mission | Connecting of Music and Leadership
-- 14:44 - Personal Reinvention: Listening to Your SELF
(includes Jessica's Personal Reinvention Fanfare Medley (15:31)
created from favorite songs identified by participants | download
below in the handouts.)
-- 30:14 - New Pathways to Leadership: Leading in DUET
-- 50:47 - Exploring Your Questions
55:25
Virtual Break with Participants
Debbe Kennedy and Jessica Roemischer answer questions and
talk with participants from Sweden, Germany/China, U.S., and U.K.

Finale includes title song, Haven, from Jessica Roemischer's CD
July 2011.


SLIDESHOW SUMMARY and HANDOUTS
All documents are in pdf format
Other RESOURCES: To inspire REINVENTION in You and Your Team
Below are four films to inspire courage. Preview each of these inspiring online FREE.
They are brought to you by Star Thrower Distribution.
More Than One Right Answer | a short film by Dewitt Jones
The program reminds us that amazing solutions are possible' and there are always more right answers when we are open enough to see them.

The Star Thrower Story | by Joel A. Barker
One of Joel Barker's most cherished stories, The Star Thrower, is available as a six minute film! Taken from his best-selling program, The Power of Vision, Joel Barker's version of the Loren Eiseley classic reminds us that we all have the ability to make a difference. As individuals, we can choose to take action and participate in the world around us. Together, we can shape the future.

A Second Chance | a short film by Paul Hopkins & Joel Suzuki
Everyone deserves a second chance. A real, life-changing event that's so much more than back to business as usual. Based on the second chance choice Robert Frost made before his first poem, The Road Not Taken, was finally published, this film provides trainers and presenters with a tool to inspire people to take risks and move forward.
See other possibilities in Star Thrower's online catalog of films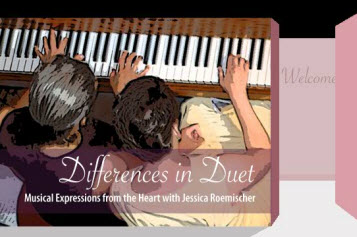 Links to Learn More
Learn more about Jessica Roemischer, transformational advisor, pianist, and composer:
Brought to you by the Global Dialogue Center ONLINE CONFERENCE CENTER