Online Dialogues
at the Global Dialogue Center
BEING a Leader LIVE!
...a global conversation series
Wednesday, December 5, 2012
with Frances Hesselbein, leader extraordinaire and recipient of the
Presidential Medal of Freedom, the highest civilian honor in
the United States of America. Frances' Bio; hosted by Debbe Kennedy,
author and founder of the Global Dialogue Center.

We Welcome YOU!
How could a conversation on these three timely topics help you take your LEADERSHIP to a new level?
- The Value of Developing an Under-Thirty Mindset
- KEY Attributes for the Global Leader
- Reflections from the "Frontlines" of Leadership
Over 300 leaders, aspiring leaders, and innovators selected these themes and gathered for our dialogue. They represented more than 20 countries and over 225 organizations. Our third 2012 global conversation was held at the Global Dialogue Center ONLINE CONFERENCE CENTER in partnership with the Frances Hesselbein Leadership Institute.

VIDEO REPLAY | To view, click on this link or the image below.
Also below are beginning times for key segments of our global conversation: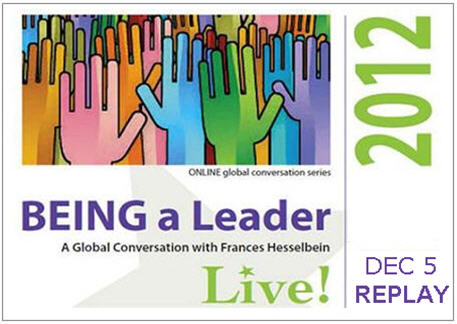 Video Replay QUICK REFERENCES:
Below are beginning times for key segments of our global conversation:
00:00
Piano Prelude, Welcome and Introduction
by Debbe Kennedy and Frances Hesselbein
Piano by Jessica Roemischer

INTRODUCTION | About the dialogue and the participants
02:40

Developing an Under Thirty Mind-Set

20:12

Key Attributes of the Global Leader

31:59

Leadership Reflections from the "Frontlines" of LEADERSHIP
Frances Hesselbein and Debbe Kennedy both share stories

41:34

Follow-On Resources | Books, Articles, Handouts, Valuable Links

44:42

Q&A LIVE! | Continuing Dialogue | Participants Speak-UP

1:02:55

Closing Thoughts | Special Announcement

SLIDESHOW SUMMARY and HANDOUTS
All documents are either linked or in pdf format to download
FOLLOW-ON RESOURCES
OTHER 2011 LEADERSHIP by Example Series – Video Webinar Replays
LEADERSHIP by Example Series 2011
WOMEN in the LEAD with Frances Hesselbein
Our Significant Roles in the Global Economy
...commemorating International Women's Day – 100 Years
LEADERSHIP and INNOVATION in Changing Times
with celebrated leader, Frances Hesselbein