Online Dialogues
at the Global Dialogue Center
LEADERSHIP by Example 2011 Series
LEADERSHIP and INNOVATION in Changing Times
Wednesday, May18, 2011 | 1:00 pm – 3:00 pm ET
with celebrated leader, Frances Hesselbein
President and CEO, Leader to Leader Institute
(formerly the Peter F. Drucker Foundation for Nonprofit Management)
...an online global exploration of how we can build TRUST, strengthen
CONFIDENCE, and ACHIEVE new levels of contribution at the
Global Dialogue Center ONLINE CONFERENCE CENTER
Hosted by Debbe Kennedy, author and founder, Global Dialogue Center
with executive guest, Joel Barker, futurist, filmmaker, and author

Welcome to YOU! The LEADERSHIP and INNOVATION in Changing Times global gathering with Frances Hesselbein is brought to you by the Global Dialogue Center in partnership with Leader to Leader Institute.

VIDEO REPLAY | To view, click on this link or the image below
NOTE: Segment timings and Slideshow Summary and Handouts below.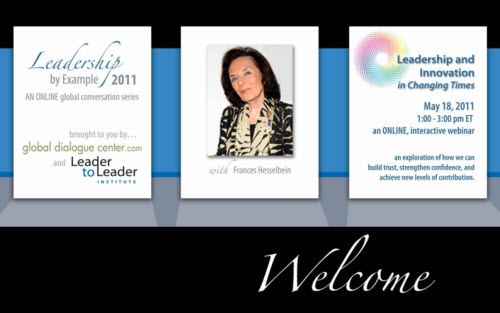 Video Replay QUICK REFERENCES:
Below are beginning times for key segments of our global conversation:
00:00
Introduction and Welcoming Message by Frances Hesselbein
Who showed up? What you told about yourselves?
09:49
Leadership and Innovation | Frances Hesselbein Insight
Our challenges and opportunities today; the role of
communication
20:00
The Significance of INNOVATION
Frances Hesselbein with futurist, filmmaker, author, Joel Barker
and Debbe Kennedy, author and founder, Global Dialogue Center
44:56
LEADING Innovation
Frances Hesselbein answers questions and talks with
Steven Rodriguez, Hesselbein Global Academy, MALAVE Fellow
and Stephen Lee, Chairman and President,
Peter F. Drucker Academy, China and Hong Kong
72:28
Message for YOU from Frances
Call-to-Action and Inspiring Closing Quote
78:13
Informal Virtual Break with Participants – Frances Hesselbein
with Debbe Kennedy and Joel Barker | Questions, comments and
conversation with leaders and innovators around the world.
Tell us about your experience of the webinar or REPLAY and help us
select a theme for our next global conversation.

SLIDESHOW SUMMARY and HANDOUTS
All documents are in pdf format